The Best Light Bars For Monitors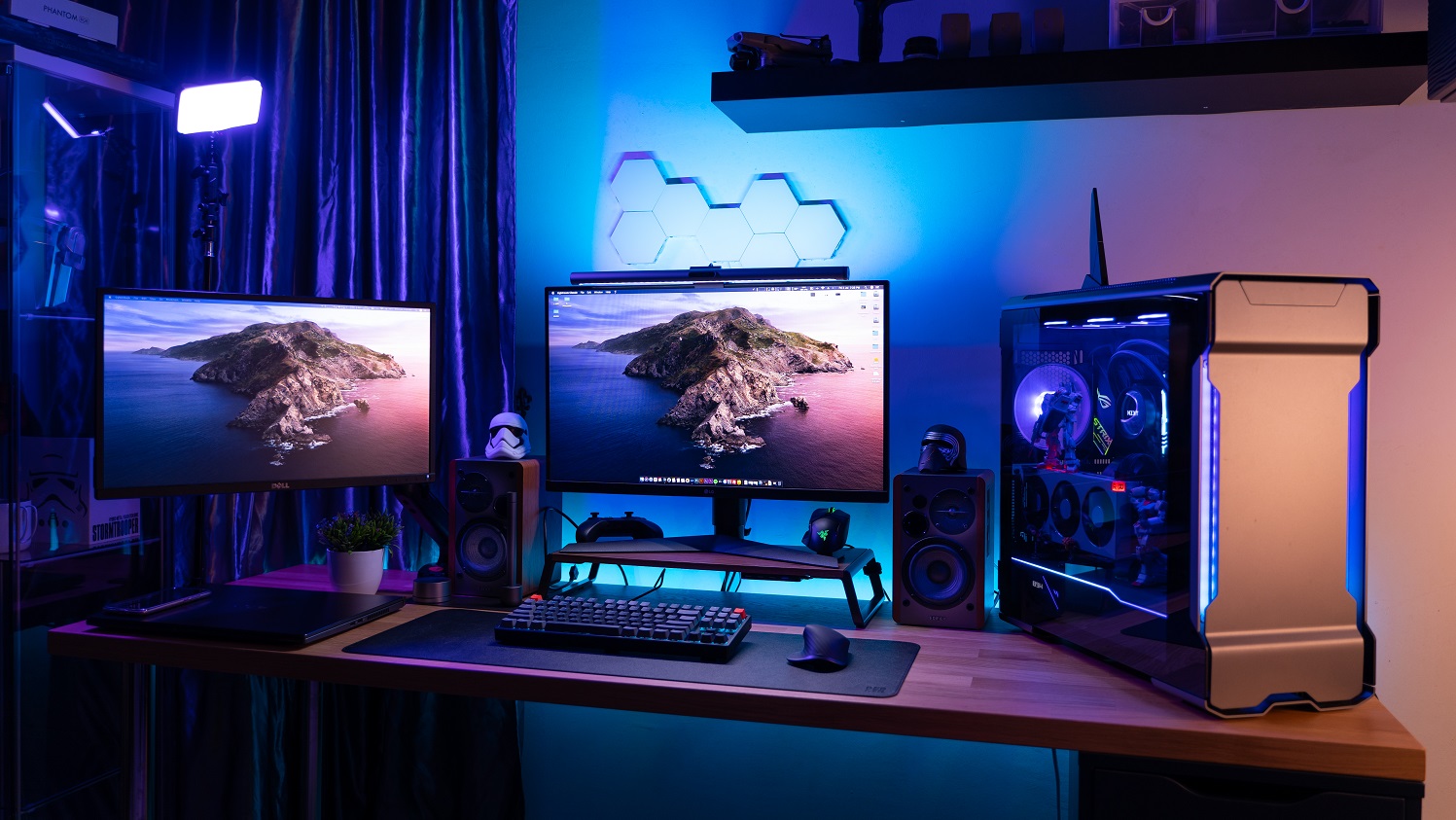 As we spend more and more of our time at our desks indoors, the negative side effects of doing so are quickly becoming apparent. Eye fatigue, difficulty sleeping, and headaches are common issues these days, often due to a combination of blue light and harsh desk lamps. A good monitor light is a fantastic solution to these problems, directing light waves away from being pointed right at your eyes, while still illuminating your desk so you can see. Check out our list of the very best monitor light bars below and find one that is right for you.
What to Look For
When choosing our favorite monitor light bars, we looked for ones that are gentle on your eyes, do a good job at illuminating your desk to make reading easier, and are a great value for their price. Quntis' monitor lamp takes our top spot with its anti-blue light technology and asymmetrical design that prevents eye fatigue. For control that's easily within grasp, consider Xiaomi's light bar with its nifty remote control. Keep on reading to learn more about our favorite light bars for monitors and why we love them.
Quntis Computer Monitor Lamp
Both affordable and high-tech, this light bar is a great way to protect your eyes.
Having tons of features doesn't always come with a hefty price tag. Quntis' computer monitor lamp is specially designed and packed with features that help you work better. It has an asymmetrical construction that directs the light on your desk space without shining in your eyes. It also blocks out blue light and radiation, protecting your eyes from fatigue and damage. Best yet, it has stepless, auto dimming, and memory functions that remember your last setting, saving you time when you turn it on.
Pros:
Has 3000k-6500k color settings
Comes with a 6.5' USB-C cable
Has a 25,000+ hour lifespan
Cons:
Mount clip doesn't work the best on curved monitor screens
BenQ ScreenBar Monitor Light
This monitor light can help create a more immersive working experience.
Many people struggle with working at night because of a cluttered desk or other distractions around them. BenQ's ScreenBar monitor light can help improve your focus, illuminating the work on your desk so you stay concentrated on the task at hand. It has a built-in sensor that detects the ambient light from around you to automatically adjust its brightness. And with its hue adjustment capabilities, you can easily change the temperature of the light for additional comfort.
Pros:
Fits a wide range of monitors
Has 15 brightness levels
Non-slip weight hangs it in place
Cons:
Lofter-Pro Computer Monitor Light Bar
This adjustable light bar directs light in all the right places.
Glare is the enemy of computer monitors, as it can wash out the clarity you want as you work, read, or watch shows. Lofter-Pro's light bar can tilt up to 180 degrees, ensuring it highlights the areas you want, and not where you don't. It has easy button controls that allow you to adjust the brightness and temperature of the light as you need. And to power it, simply plug it into your computer, battery pack, or any other USB port you have available.
Pros:
Simple button controls
Light is easy to tilt for directional control
10 different brightness levels
Cons:
Doesn't work on monitors that have curved backs
Xiaomi Mi Computer Monitor Light Bar
You won't have to stretch to adjust this monitor light bar.
While all light bars have some level of adjustability, Xiaomi's Mi takes makes it easier to change settings than ever. With a wireless remote, you can conveniently place it in an optimal spot within arm's reach. Its custom optical glass and textured hood help reduce screen glare too. Best yet, the Mi's 40-degree adjustable axis allows it to work seamlessly with curved monitors without causing additional pressure.
Pros:
Clamp is sturdy yet gentle on your monitor
Remote is convenient and effective
Light attaches to the mount with magnets, reducing its likelihood of breaking
Cons:
Can be difficult to make slight brightness adjustments at times
Oowolf Monitor Light Bar
This light bar is extremely adjustable, easily fitting all your needs.
If you're looking for a curved monitor light bar that's easy to set up and customize, Oowolf has you covered. This monitor light bar has up to 40 degrees of rotation, allowing you to direct its light exactly where you want. It has multiple color settings, so you can set the proper tone that helps you focus. Capable of helping block blue light waves, it can help you reduce your eye fatigue looking at your screen. Best yet, the memory function saves you time setting it up whenever you turn this light bar on.
Pros:
Blue light filter reduces eye fatigue
Very affordable
Has a backlight
Cons:
You can't turn the backlight off while using the front light
Frequently Asked Questions
Why does blue light cause eye strain and fatigue?
While blue light is great during the daytime, it can disrupt your sleep routine and body rhythms at night. Electronic devices like phones and monitors naturally emit blue light, potentially making it more difficult for your body to naturally wind down before bed. Prolonged exposure can also increase eye fatigue, causing your eyes to be stimulated for too long without giving them rest. A good light bar can help block blue light, allowing you to work more effectively and sleep better at night.
What are color temperatures?
Lights are measured in their Kelvin color temperature, with higher temperatures meaning the light emitted will be whiter. A 3000K setting will make other light bars emit a warmer and more yellow tone, which may not be as bright, but will be gentler on your eyes. A light bar set at 6000K, on the other hand, will be significantly brighter and can illuminate more of your working space. Most light bars can be adjusted at least three levels between 2700K – 6000K.
About the Author
Why Trust Us
With the constantly shifting landscape in the world of technology, GameRevolution seeks to provide gamers and tech-enthusiasts with the information they need to select the right products for their needs. Since 1996, our experts have used their knowledge on all the latest gadgets – everything from headphones to standing desks – to help millions of people navigate specs and answer common questions.